2015 12th Annual Trey Hutchison Award Recipients
On Friday, October 2, 2015, at Ernest's Orleans Restaurant, 1601 Spring Street, the Caddo/Bossier Domestic Violence Task Force hosted the 12th Annual Trey Hutchison Awards Banquet to honor the memory of Officer Trey Hutchison, Bossier City Police Department, who was slain in August 2004 while responding to a domestic violence call.
Each year the task force selects nominees in law enforcement from both Caddo and Bossier parishes who, through their tireless efforts in either investigation, prosecution or legislation, have championed the protective rights of domestic violence victims and their families. The mission of the task force is to use every available resource to inform, enlighten and educate our citizens and our law enforcement partners, of the devastating impact the crime of domestic violence has on every day society. The organization is comprised of members from area law enforcement officers, the Caddo and Bossier District Attorney's offices, Family Violence Programs, and concerned citizens.
On March 6, 2007, Representative Jane Smith, while serving on the Criminal Justice Committee, authored and introduced the "Trey Hutchison Act," HB 88, which creates a database to track offenders who have assaulted a peace officer.
The keynote speaker for today's event was Trey's father, Mark Hutchison, a staunch advocate for victim's rights and a strong supporter of both the task force and law enforcement. "As a little boy, Trey always wanted to be the police, and a cowboy," Mark said. "When Trey took me on a ride-a-long, I saw the interaction between Trey and the good and not-so-good of society to be able to tell his Mother, 'Our boy's gonna be alright.'"
This year, the task force was proud to announce the initiation of a special award recognizing the efforts of a civilian in our community. This award acknowledges those who, through their efforts and actions, have become our survivor's advocate. This Civilian of the Year award is given honoring the life and legacy of the late Caddo Parish District Attorney, Charles Rex Scott.
"Scotty" was passionate about the vision and mission of the Domestic Violence Task Force and those organizations who are the shelter of our survivors and the voice of our victims. Today we paid tribute to his passion through by presenting the first award to his son, Rex Scott.
2015 Law Enforcement Recipients:
Corporal Shaundra Holmes, Shreveport Police Department (left)
Deputy Stephen J. Hoff, Bossier Parish Sheriff's Office (right)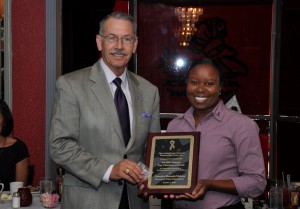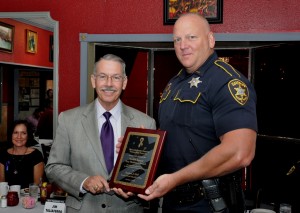 Past Recipients:
Cpl. Johnny Walker, Shreveport Police Department
Lt. Lynne Roy, Bossier City Police Department
Detective Nicole McArthur, Bossier Police Department
Detective Suzanne Gallier, Shreveport Police Department
Lt. John Fourcade, Caddo Parish Sheriff's Office
Cpl. Lindsay Bonner, Shreveport Police Department
Cpl. Roy Menefee, Shreveport Police Department
Off. Charles Bridges, Bossier City Police Department
Cpl. Dorothy Brooks, Caddo Parish Sheriff's Office
Cpl. Staycy Doolittle, Shreveport Police Department
Cpl. John Jackson, Shreveport Police Department
Detective Karen McDonald, Bossier City Police Department
Cpl. Robert Morman. Shreveport Police Department
TSgt Jonathon Walsh, 2nd Security Forces Squadron, Barksdale, AFB
Cpl. Meosha Deal, Shreveport Police Department
Off. Jeff Ross, Bossier City Police Department
Cpl. Mike Tyler, Shreveport Police Department
Dep. Kacy Gunn, Bossier Parish Sheriff's Office
Cpl. Jenny Taylor, Shreveport Police Department
Deputy Audrey Seegers, Caddo Parish Sheriff's Office
Cpl. Jenny Taylor, Shreveport Police Department
Deputy Audrey Seegers, Caddo Parish Sheriff's Office